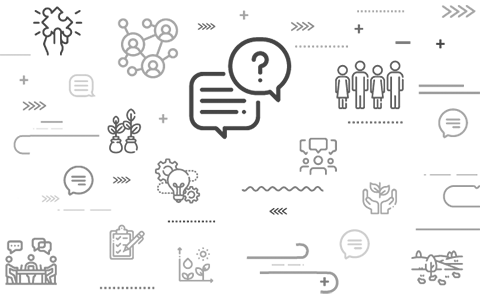 6
Networking for territories of life: Options and questions for a grassroots discussion
An ICCA network is a network of individuals, communities and organizations ready to collaborate and provide each other with advice and peer support in various subjects concerning territories of life (e.g., practices, policies, trends, threats, opportunities, resources…).
…some options for networks include…
Working group – This is an informal network in which custodians of territory of life, allied organisations, and individual activists and experts periodically gather to share ideas and work on common concerns.
Coalition or platform – These are more formal networks dedicated to a common goal, especially tackling specific, pressing issues—e.g., a coalition against an imminent threat of land grabbing or a platform in support of a specific national policy.
Peer support and review network among territories of life – These are mechanisms dedicated to mutual support and to making sure that custodian communities pull together meaningful submissions to national or international registries of territories of life. The network agrees on rules and processes for submissions that are peer supported and peer reviewed.
Association or federation – These are formal organizations, such as an association or federation that represents common interests among custodians of territories of life. More than others, this model allows a network to receive and use important resources. It also provides trusted representation when interacting with others, such as regional or national governments.
Regardless of the network type, it is important that it emerges from a felt need among communities and that it meets that need and shared concerns and priorities.
If a territory of life network does not yet exist in a specific region or country, organising a meeting among representatives of community custodians of territories of life is an effective way to get started. The meeting creates an opportunity for custodians to listen to each other's needs and ideas and establish some common ground, often based on recognised shared threats and opportunities. As the custodian communities and their partners identify common needs and possible joint activities to meet such needs, they may decide to develop some form of on-going collaboration as a network.
…questions for considering engagement in a network
Are there needs, concerns or priorities that we might be able to better address through networking and joint organising with peers and allies?
Has our community ever engaged in outreach?  What have we learned in the process?
Does our community have resources for networking and joint organising?
Are there specific conditions or circumstances that need to be in place for our community to engage in a network or joint organising activity?
Does our community know those peers and allies we are considering joining in a network?  Have we previously shared information, situation analysis and planning, or participated in an event with them? If not, should we try that out, before we embark on something more engaging?
If we decide to create or join a network, who would represent our community in the network and how would such representatives provide feedback to the community?
Some networks are flexible and relatively informal. Others are formal and carefully designed to fit a specific context or address a specific issue. All networks should be able to benefit their individual members, but many manage to reach broader goals. The priorities of the members, their context, and their resources and capacities can all help inform which networking approach is most appropriate.