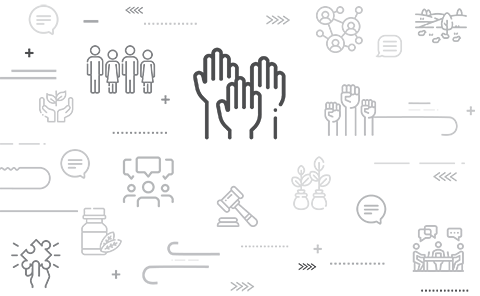 6
Lessons Learned in Advocacy
As part of a self-strengthening process, the national ICCA network should carefully consider what types of social, legal or other forms of policy and recognition and support are appropriate in its context. It is particularly important that ICCA custodian communities advocate for a specific form of recognition and support only after a well-informed and transparent exploration of the benefits and risks of various possible options, and under the authority and responsibility of their legitimate representatives. Appropriate recognition and support can help communities to secure and exercise their collective rights and responsibilities for their territories of life. Inappropriate and inadequate recognition and support, however, may be damaging and bring about undesired influence and impacts.
Diverse custodian communities that advocate together are stronger and more likely to obtain what they need. They may also wish to engage partners. National movements for land rights, peasant rights and indigenous peoples' rights may be powerful partners of community custodians of territories of life, as well as civil society organizations and movements for conservation of nature, sustainable livelihoods and human rights concerning the environment. When it comes to whether and how to engage with political parties, this is a choice to be taken by each ICCA network, with plenty of savvy.
A facilitator working with the ICCA Network will likely highlight that successful advocacy initiatives have a clear and well-argued aim (e.g., a specific policy modification or the funding of a specific scheme) and are backed by concrete, positive examples, a dedicated budget and a constituency that is as united and diverse as possible. Importantly, a facilitator may also provide links with one or a few individuals or organizations with legal skills. Ideally, any specific advocacy would be supported by at least one civil society organization with legal skills, competent to offer legal strategies and solutions, file petitions, follow up specific cases, assist in land and resource issues and conflicts, back-up the recognition of specific ICCAs, offer protection for collective rights whenever challenged, and train community members on paralegal skills.
The focus of advocacy will depend on the context, vision, and needs of those involved. See these Resource documents for more information on:
Ultimately, the greatest benefit of joint advocacy is the ability to build a critical mass for change in any given country.  ICCA Consortium members and partners have learned that:
Anyone has the power to be an advocate; no custodian community should be afraid to seek appropriate recognition and support for its territory of life… but doing it with other communities and partners is a great help.
Advocacy is most powerful when diverse networks and allies propose the same policy changes and when such changes have broad appeal to many parties in society.