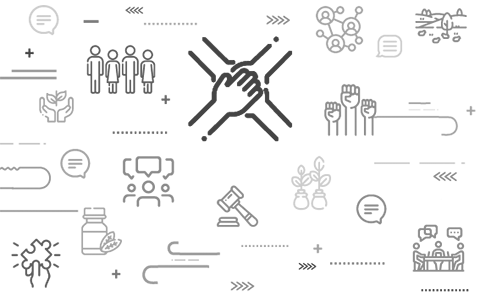 5
See how others do it!
The Wampis succeed in expelling illegal gold miners from the Peruvian Amazon…
In early 2016, the destruction and contamination caused by illegal small-scale gold mining – using motor pumps and mercury in riverbeds – became a major worry for many along the Rio Santiago (Kanus) in the Integral Autonomous Territory of the indigenous Wampis people in the northern Amazon of Peru. At an assembly in one of the affected communities, Puerto Galilea, about 100 participants discussed the problem and decided to take action. They formally asked the leaders of the then recently established autonomous government of the Wampis Nation to coordinate a campaign to enforce the prohibition of this dangerous activity.
The assembly issued an ultimatum to the gold miners: they had one month to leave the Wampis' territory.
During that month, further assemblies were held, to involve other communities beyond Puerto Galilea and to try to convince those who still supported the gold extraction. (Those supporters received economic benefits from the presence of the miners). At that time, a commission was also formed and was sent to Lima to pressure the responsible authorities to act. The commission brough the petition directly to the recipients and amplified its impact by denouncing the authorities' indifference via media interviews. This public pressure was complemented by the announcement that the Wampis would "peacefully evict" the gold miners on their own if state authorities failed to do it.
Shortly before the ultimatum ended, the miners abandoned the main extraction site, hiding their machinery. Despite this, the Wampis Nation mobilized about 200 men who travelled with a chartered boat from different communities for an inspection of the main illegal mining site. They were accompanied by the police and a state attorney, who confirmed that the mining activities were illegal. Some of the miners, however, were not fully discouraged and they later returned, as there was no permanent supervision of the site and the local civil defense force remained inactive.
It took the Wampis government about another year to solve the situation. Throughout the year, they continued to pressure state authorities, required and obtained the intervention of the police, formed a surveillance committee with members of the municipality and civil defense, and even organised a second eviction expedition before they finally obtained satisfaction. In 2018, they finally managed to terminate all illegal gold mining along the Rio Santiago… and hopefully this was once and for all. Interestingly, the success of the campaign seems to be based on the persistence of the Wampis nation. They kept meeting, planning and acting in an iterative way and they never let go of their ultimate goal.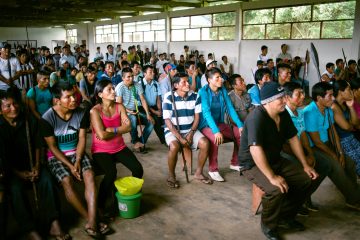 Photos: Jacob Balzani-Lööv